A fleet of robots
With big expectations and artistic freedom, the Mission Bay Hospitals Project IT team worked collaboratively with clinical operations to identify needs and develop and implement innovative solutions that would make UCSF Medical Center at Mission Bay a world-class, high-tech health care facility. By not playing it safe, but taking some risk on new technology, IT delivered high-tech tools with a "wow" factor that allow UCSF's faculty and staff to provide the best possible care.
TUGs by Aethon are robots that transport virtually everything from medication to meals, from blood samples to linen throughout the hospital. UCSF Medical Center at Mission Bay has 25 TUGs; that is the largest fleet of robots working in a hospital setting in the world. UCSF IT made it possible for these robotic couriers to perform the essential daily tasks that maximize efficiency as part of the medical center's efforts to reduce health care costs.
Eighteen of the robots were activated when the medical center opened on February 1, 2015. The remaining seven robots became operational on March 1st. The robots have quickly become part of the clinical teams, which depend on them each day.
ROBOT DISTRIBUTION

Sterile Processing Department – 6 robots
Nutrition/Food Services – 6 robots
Hospitality – 7 robots
Materials Services – 2
Pharmacy – 2 robots
Pathology – 1 robot
Blood Bank – 1 robot

Fun Facts

Nutrition/Food Services was the first department to reach 1,000 trips; it happened in first 12 days.
All robots combined average 40 miles a day.
All robots combined average 180 trips a day.
All robots combined average 220 deliveries a day
Interactive Patient Care System
It's not just a generic television anymore; it's a customizable, interactive, multimedia solution that makes staying connected to the outside world easier and more fun, and communicating with the clinical team empowering and more meaningful. Large 65" smart displays coupled with bedside tablet computers are now in every patient room of the children's, women's and cancer hospitals at Mission Bay as part of the Interactive Patient Care (IPC) system. IPC is a hub for education and entertainment, which is directly linked to the APeX electronic medical records system.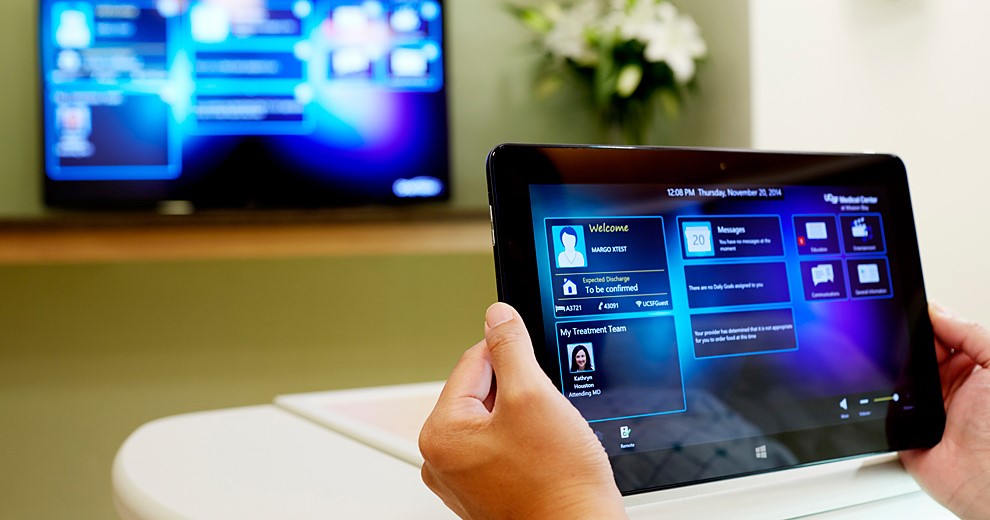 In collaboration with nursing, physicians and hospital operators, UCSF IT selected Oneview (a Dublin, Ireland-based firm) because they had the latest, most advanced and open technology that could meet our need to educate, entertain and empower our patients. Oneview emerged from a strenuous RFP process, and then, guided by IT, worked closely with clinical representatives, patients and families to tailor the IPC system that is available in the hospitals today.
The IPC experience allows patients and their families to engage in their care – to connect with their physicians in new and exciting ways. Patients use the IPC gateway to educate themselves about their medical conditions and the specialized treatments they are receiving at UCSF. They can view radiology results or review an upcoming surgical procedure. The technology enhances a patient's ability to partner with clinicians on care decisions.
In addition to consulting with clinicians and learning about their medical conditions and treatment plans, patients can use IPC to simply order their meals. Children can use IPC to continue their studies with classmates at their schools. Adults can stay in touch with faraway relatives and friends. And the IPC platform remembers personal settings for return hospital visits. IPC has 152 broadcast channels, 10 UCSF-programmable channels and 40 on-demand movie channels.
Smartphones for Health Care
UCSF IT is working to make pagers a thing of the past in hospitals, as smartphones take their place. More than 850 Voalte® smartphones were deployed at the Mission Bay hospitals on opening day. Voalte, created by an innovative vendor of the same name, is used by nurses, physicians, food and nutrition services, hospitality, and facilities workers. The clinical communication devices are providing users with more information faster and enabling them to respond to patient needs rapidly.
In collaboration with nursing, physicians and hospital operators, UCSF IT selected Voalte because it allows faculty and staff to make and receive phone calls, to securely send text messages, and to receive alerts from patient monitoring systems. The multifunctional Voalte, which runs on the medical center's wireless network (802.11), is a direct answer to clinical operations' request for improved communications that lead to reduced patient response times and increased productivity.
IT worked with clinical operations for nearly a year to develop just the right Voalte phone for Mission Bay – beginning with a pilot launched in August 2013 at the Parnassus and Mount Zion sites, which used an iPhone platform, and ending in March 2014 with selection of a Motorola platform and an Android operating system for deployment at Mission Bay.
The network is handling the volume of Voalte traffic without any difficulty. And adoption and support for Voalte phones have been very high. There is now significant demand to deploy additional devices and to extend the reach of the Voalte functionality outside of UCSF buildings and on personal smartphone devices. More to come as we work to provide these extended capabilities.
Source: http://it.ucsf.edu/news/mission-bay-future-technology-patient-care